Our Staff
Paternal grandparents Marsha and Greg Williams
Greg Williams currently teaches English at Schlarman Academy in Danville, Illinois. He is the author of Reagan's Rescue: A Grandfather's Journal, A Grandfather's Journey. His wife, Marsha, an LPN, is currently working as a teacher's aide for Danville District 118. They have five children--Blythe, Ian, Mallory, Flyn, and Bailey--and twelve grandchildren--Reagan, forever 2 1/2, Aubrey, Ainsley, Rowan, Archer, Addie Mae. AJ, Emery, Gideon, Jude, Hank, and Zuzu.
Maternal grandparents Gary and Becky Green
Gary and Becky Green currently reside in Illinois. They have four children--Tracy, Travis, Kelsey, and Cory--and three grandchildren.


Our Media Efforts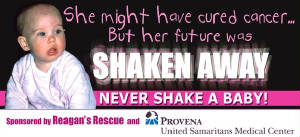 Our SBS billboards around Danville, Illinois
Thanks to Jeff Summers of Media One Graphic Design for his talent, skill, and compassion in creating the billboard.
We're grateful to Gretchen Wesner at Provena, Neuhoff Broadcasting, Larry and Rhea Weatherford, and the voice talents of Angie Mansfield, Jordan Worthington, Jessica Valdez, Gretchen Wesner, Scott Zercher, and Ted Vacketta.